Does your smartphone need an antivirus app? The answer is absolutely yes, and the truth of the matter is that there are a multitude from which to choose. As an aid to consumers, independent testing lab AV-Comparatives periodically assesses security software to evaluate its effectiveness. The lab did such a study recently on Android antivirus products and learned that over half of those tested were "risky," meaning they were at best buggy and at worst deceptive. Avast, however, received a perfect score of 100% malware detection.
Our malware detection secret weapon is not so secret, as we've now opened it up to the entire security community. Our mobile threat intelligence platform (MTIP) is apklab.io, a tool that analyzes and classifies every type of Android malware. Recent apklab.io discoveries include malware-infected beauty apps and block puzzle games, all available on the Google Play Store until we flagged them as malicious and Google took them down.
The AV-Comparatives study looked at 250 security apps, concluding that at least 55% were dubious and unsafe to the consumer. Check the lists below to see if you may have unwittingly downloaded and installed any of them.
Possibly due to the glamour of having a security app in their portfolio, bad developers (or extremely amateur ones) have released imitation apps to mislead users and pose as competent security companies. In some cases, they are not deliberately deceptive, but are ineffective at protecting the device against malware. "Apps made by amateurs can often be spotted in the Google Play Store by looking at the options for contacting the authors," advises AV-Comparatives in their report. "Typically, hobby developers will not provide a website address, merely an email address. Additionally, most such apps do not provide any sort of privacy policy."
The good guys
In this test, our Avast Mobile Security & Antivirus earned a perfect score, detecting 100% of the 2,000 samples of malware used, all gathered from the most common malicious Android apps of 2018. To test for false positives, the lab also included 100 clean apps. Avast made no detection errors in the course of the study — zero false positives. Our threat detection network effectively discerns safe from unsafe.
The bad guys
AV-Comparatives found in their tests that "quite a few apps seem to be closely related variants of the same thing, or use a common AV app template. In some cases, only the name, logo and color scheme are different."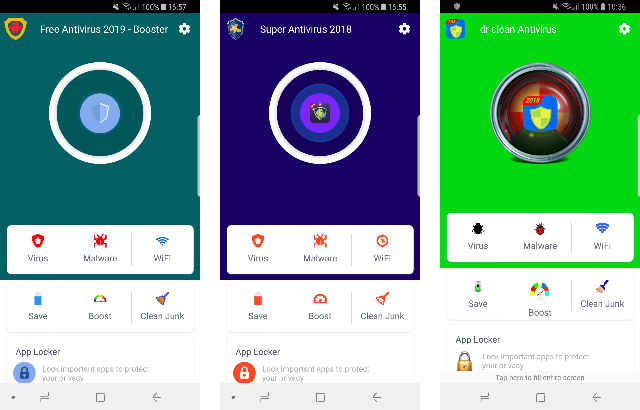 Source: AV-Comparatives Android Security Test 2019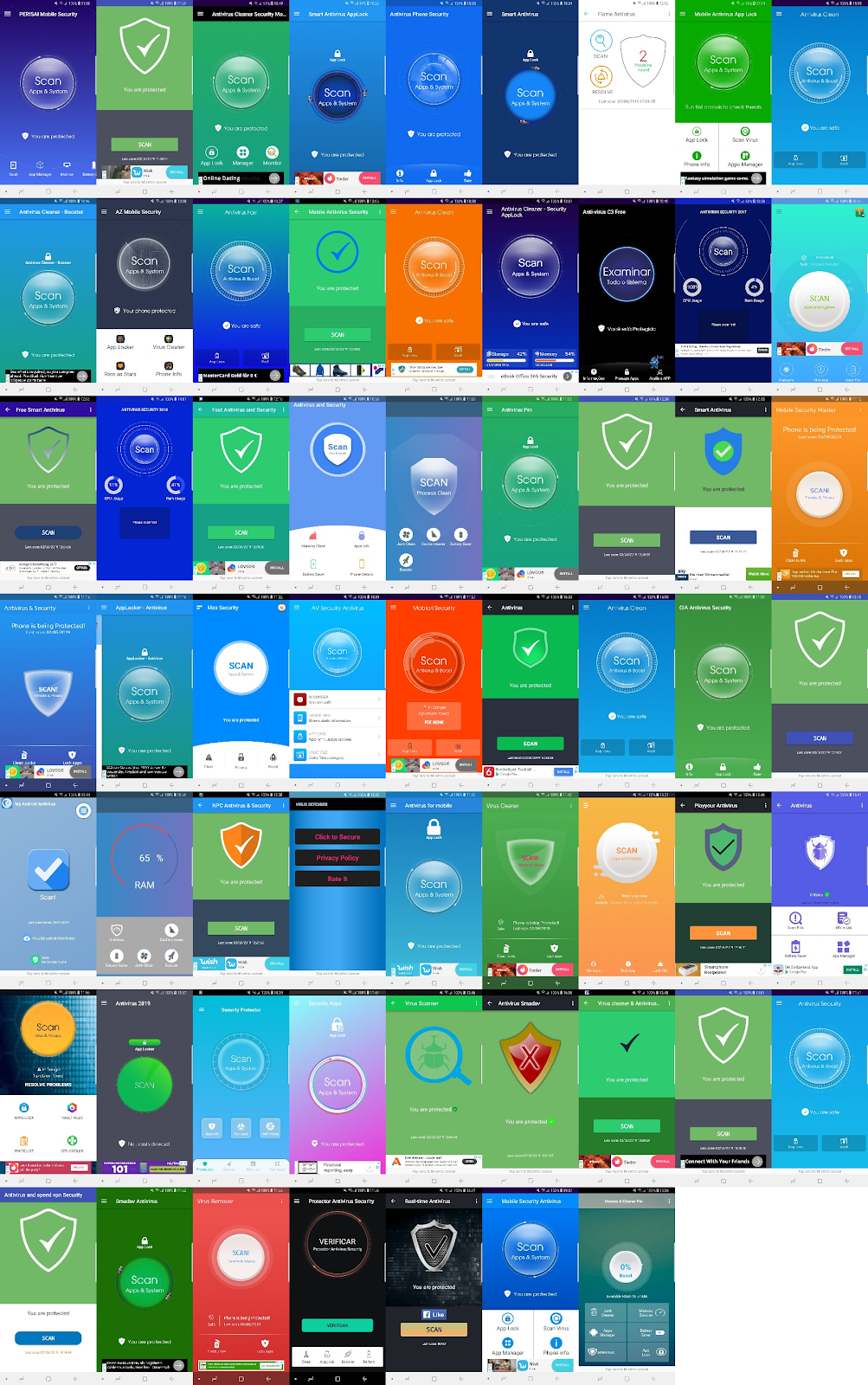 Source: AV-Comparatives Android Security Test 2019
The tests proved that these rogue apps not only have a very poor detection rate (lower than 30%), but they also open the door to other threats using false white lists, generally from "trusted" and similar developers. Some of these apps have been abandoned by the developer and are no longer being updated in the Google Play Store, which ensures they are unable to detect the latest threats.
AV-Comparatives makes the following recommendations when it comes to choosing an Android security app:
Ratings are not an effective indicator, as the vast majority of users will simply give a rating based on user experience alone, saying nothing about the app's ability to truly offer protection.

Reviews are sometimes faked by developers. Most of the 250 apps in the study had a score of 4 or higher on the Google Play Store.

Similarly, the number of times an app has been downloaded can only be a very rough guide. A scam app could be successfully downloaded many times before it's discovered to be a fraud.

Using reputable, verified vendors is recommended. In addition to participating in tests by independent institutes, such vendors will always have a professional website that offers contact information and a privacy policy.
List of risky apps according to AV-Comparatives
Please, for your own safety and peace of mind, see if any of the apps below are currently on your mobile devices. AV-Comparatives considers each of these to be either risky, dubious, deceptive, unsafe, ineffective, or buggy.
1Machine System Sdn Bhd

actionappsgamesstudio

Antivirus Mobile Lab

appflozen

AppLocker Cleaner Booster

AppsNewLook

appsshow

AS team security phone Lab

AVC Security Joint Stock Company

Ayogames

azemoji studio

bESapp

Best Battery Apps

brouno

Caltonfuny Antivirus Phone

Chromia

Core Antivirus Lab

CPCORP TEAM

CreativeStudioApps

electro dev

Fast n Clean

FrouZa

GameXpZeroo

GlobalsApps

handy tools apps

jixic

lempea

MAN Studio

Marsolis Tech

MaxVV

Mobile Antivirus Lab

Mobtari

Mond Corey

Mondev44

MSolutions

MSYSOFT APPS

My Android Antivirus

Niulaty

NPC Studios

Ocean Developers

Omha

Oxic Studio

Pix2Pic Studio

playyourapp

prote apps

Protector & Security for Mobile

Radial Apps 2018

Security and Antivirus for Android solutions

Security Apps Team

SecurityApplock

Smart bapp

Smart Battery Solution & Creative Screen Lock

stmdefender

Tokyo Tokyo

Tools dev

tools for android

Utilitarian Tools

Virtues Media & Applications

Wingle Apps

XZ Game

zeeworkers
Thanks to independent testing labs like AV-Comparatives and AV-TEST, consumers can easily find a well-lit path through the dense forest of apps crowding the marketplace. Be smart and protect your digital life with the right tools. Read the full Android Test 2019 by AV-Comparatives and protect your Android device with our perfect-scoring Avast Mobile Security & Virus Cleaner.