avast! Endpoint Protection Suite: Compelling Alternative for Business-level Virus Protection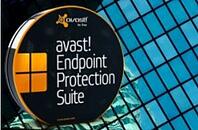 Those of you who manage Windows servers and endpoints for SMBs or enterprise will be interested to read the latest review of avast! Endpoint Protection Suite from eSecurity Planet. Technology journalist Paul Rubens looked into the nuts n' bolts of our business product and found the same award-winning multi-layered protection approach as the consumer products –with the addition of server protection and a choice of two central management consoles, Small Office Administration or Enterprise Administration.
The web-based Small Office Administration console is designed for companies with up to 200 end users. Unskilled administrators have a user-friendly central window which controls all functions of endpoint and server security. Despite its simplicity, it offers remote installation and updates of endpoint software, scanning and remote running of scan jobs, and virus activity reporting. There's also an auto-discovery of new/unprotected or "rogue" machines connected to your company network.
The Enterprise Administration console is accessed as a Windows application and offers sophisticated functionality for skilled IT staff. Admins manage devices organized in a hierarchical tree structure based for example, on the geographical or organizational structure of their network, which makes it possible for them to assign administration access rights and policies. It also includes customizable alerting so they can receive a warning by email regarding activity on your network that warrants their attention.