Gathered from millions of Avast and AVG users and studies worldwide, the Q3 2017 Avast PC Trends Report gives a real-world view on the software and hardware being used today.
If you browse tech sites, work at a twenty-first-century company, or regularly visit your local PC store, you might be led to believe that gone are the days of those old, grey, monolithic boxes humming underneath office desks, or those massive, chubby, loudly whirring laptops. Everyone must be using sleek, fast, updated Windows PCs...right?
Not quite…
With Avast and AVG growing together, we now have access to anonymous data regarding hardware and software from over 155 million desktop users. We get a real sense of what's out there from the data gathered by both the AVG PC TuneUp and the Avast Software Updater built into our security suite.
Top 7 Key Facts about PCs in 2017
So what IS the state of PCs today? Here are seven key findings in our report—and what they mean.
#1 - The average PC is over 5 years old
Users keep their PCs around for a looooong time: Only 10% of PCs and laptops worldwide were purchased in 2015 or later. Surprisingly, nearly 28% of PCs are more than eight years old, meaning they are from the Core 2 Duo era and thus painfully slow, with a majority being made between 2010-2014. The median age of all measured PCs from 155 million users comes in at slightly more than 5 years.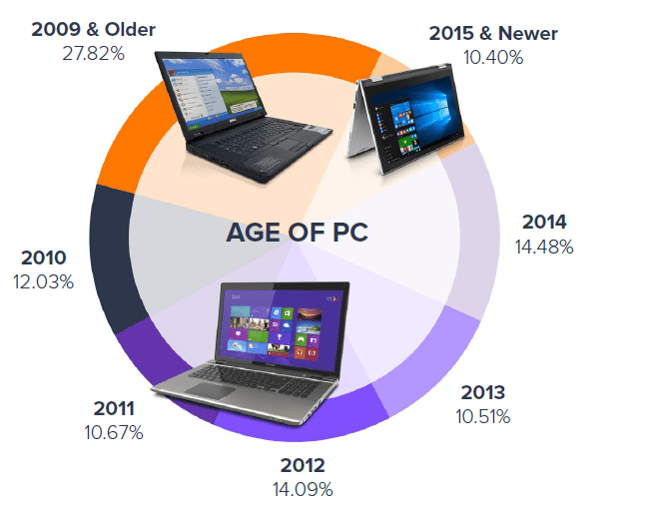 #2 - The average user has 51 programs installed
Out of millions of PC desktop users worldwide measured, the average amount of installed programs came in at 51. Mind you, this isn't just your day-to-day stuff like Skype, Office or iTunes, but also tools like Java and Flash, which are required to run websites and other programs. Remember, the more programs you install, the slower and potentially unreliable your PC becomes.
#3 - Top 5 most installed programs are…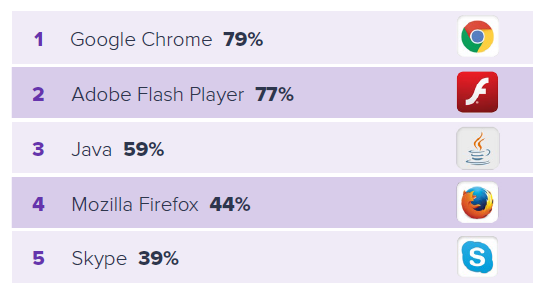 A vast majority—79% —had Google Chrome installed. Talk about dominance in the browser market! But many users also have Firefox, perhaps alternating between the two browsers.

#4 - Most out of date products - Java, Adobe Air & Shockware
Because we acquired our telemetry using the Software Updater feature, we learned just how many software products are out of date. Turns out, some of our (free) users, who don't have Automatic Software updates enabled, run some quite old and potentially dangerous software. Leading the list is Java, with 17% users running the outdated versions 6 and 7. We suggest that even those users running Java 8 should update the software by visiting the official Java site or using either Avast Premier or AVG PC TuneUp, both of which include Automatic Software Updater.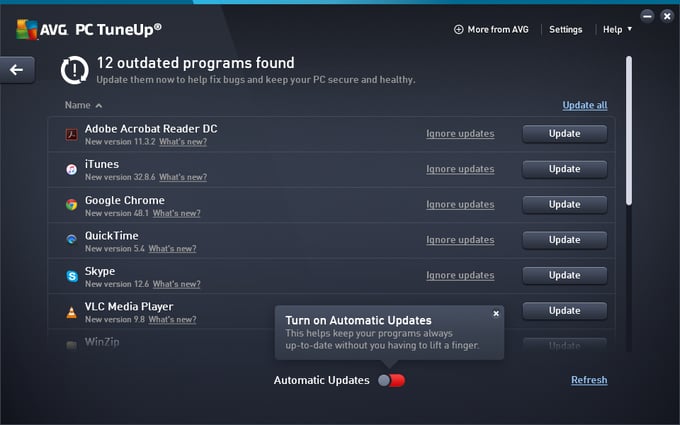 #5 - Windows 10 market share increases, now at 35%
Microsoft's Windows 10 was introduced two years ago and has received multiple major releases since then, setting it apart from Windows 7, which is starting to show its age. Despite this, the older OS is still installed on 45% of our users' PCs.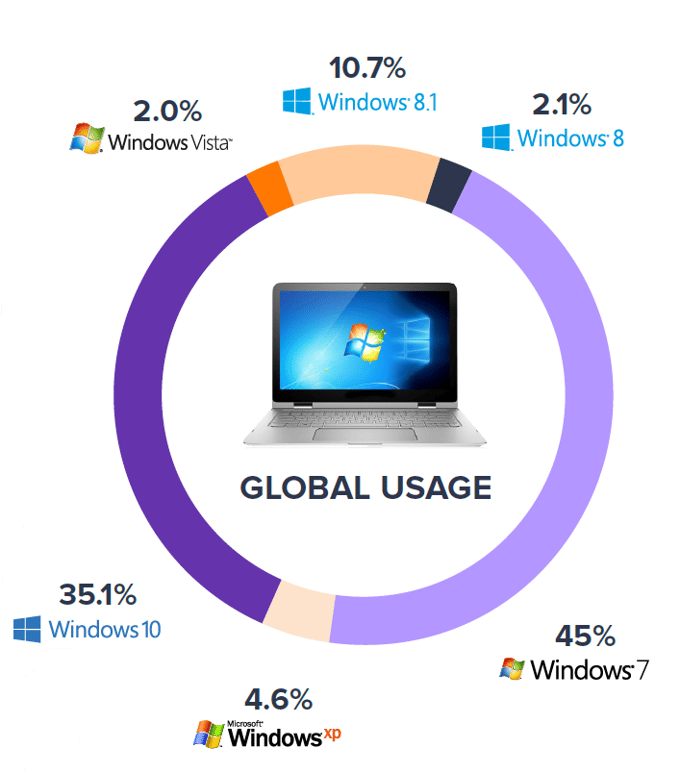 Source: Avast PC Trends Report Q3 2017
#6 - HP leads the pack: 20% market share
Looking at the distribution of global PC brands, Hewlett-Packard leads the pack. Their closest competition boasts only half that number. Hovering around 10% million is Acer, Asus, Dell, and Lenovo.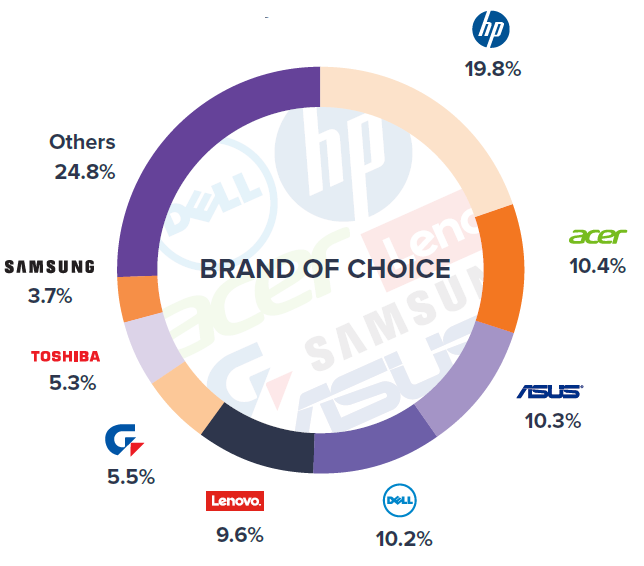 #7 - SSD share surprisingly small: HDD still rules
With the average age of PCs being over 5 years, it's not surprising to learn that the much faster Solid State Drive (SSD) is nowhere near as common as the regular mechanical hard disk drive (HDD). Out of the millions of users we were able to source, only 7.4% had an SSD, while another 6.7% had a hybrid combo of SSD+HDD in their system. The rest (85.9%) still have to deal with the lags and slow access rates of traditional hard disks.
This is just the tip of the cyber iceberg. Our full report includes much more information, like complete lists of the top installed apps, the average size of hard disks, RAM sizes, the most popular CPUs, and more. Check out the full PC Trends report here.