Happy employees and an innovative workspace earn Avast two prestigious awards.
When we moved the Prague headquarters of Avast to the beautiful new Enterprise Office Center in January 2016, we strived to create a Silicon Valley-style working environment. Popular design ideas, conceived to foster collaboration among individuals and teams, were built into the 15,000 square meter office space. At the opening of the new building, Avast CEO, Vince Steckler said, "Avast has chosen a building that reflects its open, innovative, and inspirational company culture."
A year later, our innovative HQ building landed Avast the Most Attractive Working Environment award. The award was given based on a survey of employees and the selection of a jury chaired by well-known Czech architect Eva Jiřičná.
Avast was also named the most 'Employee Friendly' workspace in a competition organized by Prochazka & Partners for Offices of the Year. The aim of the competition was to award companies that invest in a quality-working environment for their employees, and in turn, attract the interest of prospective employees.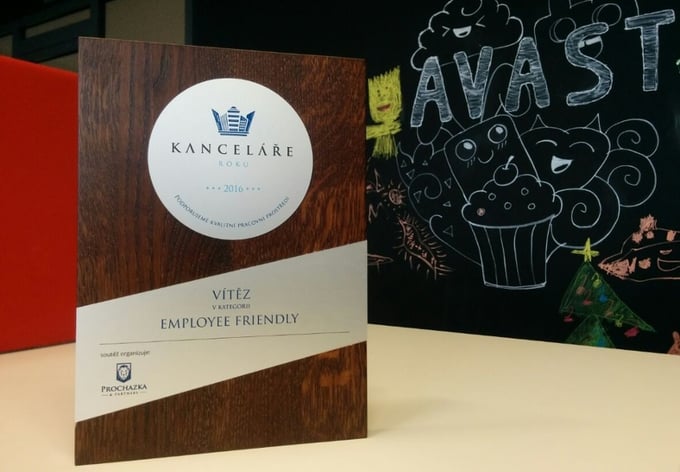 The Employee Friendly category was designed for companies that demonstrate a high regard for employee's satisfaction with a friendly workspace in terms of uniqueness, design, innovation, overall atmosphere, and especially the quality of the working environment.
The friendly Avast environment
A central staircase links Avast's seven floors, while 45 meeting rooms and lounge areas on each floor make it easy for employees to get together. Fine food is served from morning through late afternoon in a Silicon Valley style canteen, and it's picnic-style tables and benches encourage employees who normally may not sit together to share a meal and learn about each other.
After all that good food, a fully equipped gym helps employees stay fit and strong. In addition to the fitness room, employees can relax and have fun in the game room, practice their swing in the golf simulator, watch movies in the cinema, play music in the studio, or read quietly in the library. The kid's playroom allows Avast parents to bring their small children to the office for a visit.
We are pleased that our HQ facilities were recognized, and we hope that our award inspires other companies to create an innovative, comfortable atmosphere for their employees.