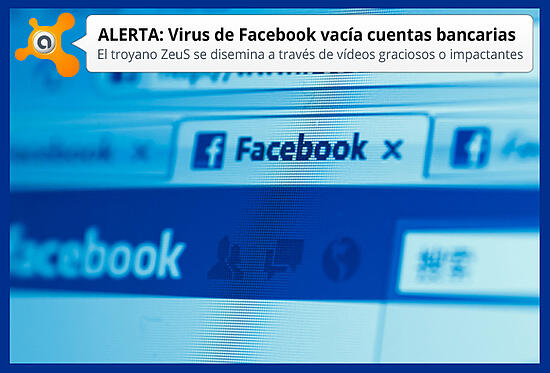 Un troyano muy peligroso llamado Zeus se está extendiendo entre los usuarios de Facebook. Este caballo de Troya que es muy antiguo, ha infectado a millones de ordenadores en los últimos años, con el robo de datos bancarios y otra información personal. Él, Zeus puede permanecer latente en los equipos infectados hasta el registro de la víctima inocente en el sitio web de su banco. Una vez iniciada la sesión, los ciberdelincuentes pueden robar las credenciales de inicio de sesión y vaciar la cuenta sin su conocimiento.
El virus se transmite a través de mensajes de phishing o video gracioso o chocante que un amigo publicó en su página o en un mensaje para usted, o por medio de un anuncio de vídeos o productos. Si hace clic en el enlace para ver el video, una notificación le dirá que usted necesita para actualizar la misma. Al hacer clic en Actualizar, descargará el troyano. Al hacer clic en el botón Reproducir dará automáticamente Me Gusta (Like) a la página del virus, y es a través de esta acción que el vínculo se extenderá a todos sus amigos.
Así que mucha atención para abrir ciertos videos! "BORRAR TODA REFERENCIA AL MENSAJE O VIDEO"
Many thanks to avast! user, Gilberto Ramos, for the translation.