Question of the week: I noticed you announced on Facebook that a brand new avast! program update is available. How do I get it?
Thanks for being our fan on Facebook. Indeed, we announced a new program update this week for avast! Free Antivirus, avast! Pro Antivirus, and avast! Internet Security to version number 7.0.1473. It's the last program update before version 8 is released at the beginning of 2013. You can get the new version immediately by invoking the Program Update feature from within the avast! user interface. New users can get it by downloading from the avast! website.
Let me explain a little further: By default, avast! updates the engine and virus definitions automatically whenever a new version is available, but the program update is set to ask you first. You can choose to accept program updates automatically, just like the engine and virus definitions, by clicking on "Settings" then "Updates" and checking "Automatic update."
Here's what the Current Status of my avast! Internet Security looked like before I updated it. You can see there is a link to update on the right.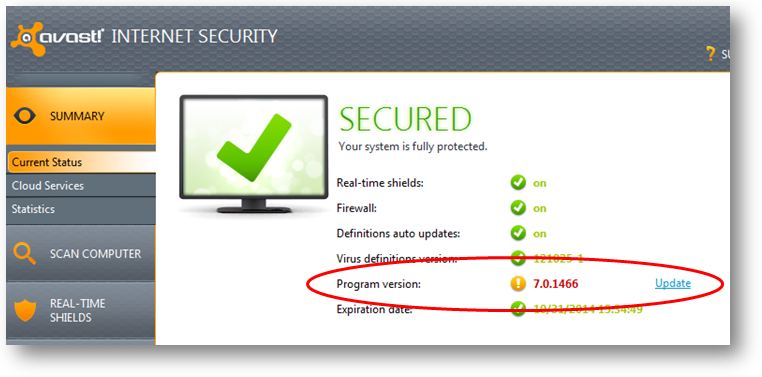 Another way to see it is in the Maintenance tab of your program. Click on "Update", and you can check the current version of both the "Update engine and virus definitions" and the "Program." You can manually update either by clicking on the green arrow. Normally, clicking on "Update Program" automatically updates both the program and the program engine and virus definitions.
We hope you enjoy the newest version of avast! Antivirus. If you have a question or comment about the new update, please visit our NEW PROGRAM UPDATE 7.0.1473 forum topic.